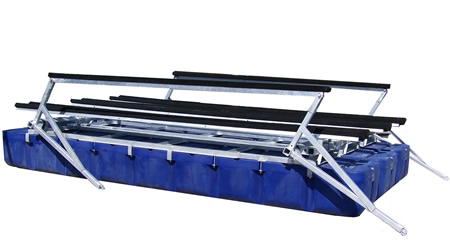 The Boat Lift of choice is a Boat Floater. Boat Floater has been building high quality boat lifts since 1974. Our lifts are designed for the roughest water conditions and will bring you decades of service. Whether you have a fishing boat, runabout, pontoon, tri-toon, or PWC, Boat Floater Industries has the perfect solution. Your boat and dock are large investments and require a dependable lift system. The best boat care starts with the most durable boat lift available. See if your lake is on our list!
Our polyethylene tank design along with a simplistic upper structure design on our lift will accommodate any of your boat lift needs. The steel components of the lift are galvanized and above the water guarding against rust and marine growth. Your open bow rider, bass boat or fishing boat, competition v-drive inboard wake boat, pontoon boat, tri-toon, performance boat, or cruiser will be safe and secure on your Boat Floater boat and PWC lifts. Your Boat Floater lift or PWC lift will position your vessel or PWC (personal watercraft) easily and self center for convenience.
We offer a Limited Lifetime Warranty because we build the most maintenance free four point boat lift in the industry. Our lifts have more steel than our competitors. Boat Floater Industries, LLC has helped boaters protect their boats and docks with their quiet, stable and durable boat lifts since 1974.
Contact our experienced staff today with any questions you may have. Boat lifts built and designed by boaters, for boaters. We will see you at the lake!
Dear Customer,
We are glad you are here and we're ready to assist you with any questions you may have about our boat lift products. As avid boaters ourselves, we are determined to help you get the best out of your boating time. Boat Floater Industries, LLC has been designing and building the toughest, most maintenance free boat lift in the marine industry since 1974. Our philosophy is simple; your boat lift is a purchase you should only have to make once.
We frequently talk with customers who have owned their Boat Floater Lift for 20 or 30 years. Boat Floater Industries, LLC takes pride in building a boat lift which is simple to use with little or no maintenance so you can be doing what it is you really want to do, enjoying your boat.
When you walk off your dock, you know your investment is protected on your Boat Floater lift.
Respectfully,
Phil Woodall, President